For the month of June our focus on Events, we wanted to share with you some of the best, most interesting and more unusual food festivals and events from around the world. So whether a mad, immersive experience is what you're after, or if you prefer something more sedate, check out our top 10 suggestions of brilliant foodie trips...
Salon du Chocolat, Quito, Ecuador
Ecuador is the home of some of the best chocolate in the world and every year, this is celebrated at the incredible 'Salon du Chocolat' in the Ecuadorian capital, Quito. Around 15,000 people attend each year to enjoy tastings from Ecuadorian producers large and small, cookery classes, check out the prestigious chocolate sculpture competition and even see a chocolate fashion show! The event started in France more than 20 years ago and today is recognised internationally as the most important chocolate event in the world. From previous years, enthusiastic locals arrive early in the morning to get to the front of the line and get in first, so by 10am you can expect long queues to get in (top tip - wait til an hour later and the queues have usually cleared, but don't wait too long or you'll miss the free samples!) The highlight of the festival is undoubtedly the last day, when the winners of the various contests are announced! (7-9 June 2019 - info here).
Dumpling Festival, Hong Kong
Dumpling lovers of the world unite at this world famous festival in Hong Kong. Celebrated on the fifth day of the fifth Chinese lunar month, this is a day when Chinese families around the world traditionally feast on dumplings - visitors to the festival can enjoy a sea of dumplings, with the highlight being zongzi dumplings, made of glutinous rice with different fillings wrapped in bamboo, lotus or banana leaves. The spectacular Dragon Boat Race, tied in to the legend behind the festival itself, is a must see (in between mouthfuls of course!) - the race has become so popular that the sport now has its own international federation! (7 June 2019 - info here).
Giant Omelette Celebration - Bessières, France
Whilst Brits are tucking into chocolate eggs for Easter, our neighbours in Bessières are on a different mission… Here, they celebrate the religious holiday by gathering dozens of the the best chefs from all over the city to make one giant omelette! Using around 15,000 eggs, the omelette is cooked in the streets before being cut up and shared amongst the thousands of onlookers who flock to the celebrations. The festival started, according to legend, when Napoleon Bonaparte visited the area and, enjoying his eggs so much, asked for a giant omelette to be prepared for his troops. The festival has been going for decades and today see chefs gather with huge spoons that look more like oars to prepare the massive omelette in the main square. The festival lasts several days and aside from the main attraction of the omelette itself, visitors can enjoy dancing, music and parades. The tradition (and egg count!) has grown since the 1970's and now sister festivals with more giant omelettes are found in linked cities worldwide, including Fréjus in France and Pigüé in Argentina! (The next festival in Bessières is Easter 2020, but the sister festivals around the world happen throughout the year. Full info here).
Die Lange Tafel, Graz, Austria
On a wonderful, late summer evening each year, Graz hosts a night of sophistication and culinary excellence for the masses. Splendidly laid tables, top chefs and some of the best wines of the country are brought together under the stunning backdrop of Schlossberg, the clock tower and town hall. More than 750 lucky guests dine under the stars in an electric atmosphere, followed by a standing ovations for the chefs and their teams, the organizers and the music ensembles. Tickets sell fast understandably, but if you can get one, it's really something special. (24 August 2019 - info here).
La Tomatina, Bunol, Spain
La Tomatina is an experience unlike any other… the world's largest food fight, it takes place each August in Buñol, Spain. Over 20,000 participants from all over the world gather in this small Valencian town to throw (literally) tons of over-ripe tomatoes from Extremadura at each other in this huge, epic battle! The food fight itself lasts just one hour, but the week leading up to it is full of festivities including music, fireworks, various parades and huge paella cooking contests, as well as countless after parties with DJ's and dancing long into the night... So whether you're into throwing food or just up for eating it, this week long celebration has something for everyone. (28 August 2019 - info here).
The Onion Market, Bern, Switzerland
The famous Onion Market (Zibelemärit) is the biggest traditional folk festival in Bern. Held on the fourth Monday of November each year, farmers from the surrounding area gather their wares and head to the Swiss capital to showcase more than 50 metric tons of onions and garlic in woven braids, rings and single bulbs. Officially the festival starts at 6am but the city is already full of onion aromas by 5am, when the first onion soups and tarts start cooking. Stalls with Gluwein, textiles, jewellery, ceramics and children's toys also fill the streets, making it a wonderful day out. A highlight of the event is the confetti war, which starts punctually at 4pm! (25 November 2019 - info here).
Nuit de la Sardine, Saint-Jean-de-Luz, France
For over 30 years, sardines have been celebrated every summer in Saint-Jean-de-Luz, where this traditional festival is one of the highlights of the summer. Every July and August, for two solo nights, the town goes sardine crazy. At Campos Berri, more than a thousand foodies gather to enjoy a giant barbecue. Grilled sardines are accompanied by a host of local and regional dishes, including tuna à la plancha, sausages and the famous Basque cake. After dining at over 200 tables, revellers take to the streets for music, performances and dancing into the night. (20 July & 3 August 2019 - info here).
La Batalla de Vino, Haro, Spain
Much like La Tomatina, this sumptuous festival is also about covering friends and strangers in something delicious, but this time it's wine! Every June, locals in La Rioja gather to spray one another in red wine, before switching to drinking it instead and partying the night away. Known locally as La Batalla del Vino de Haro, this huge 'wine fight' involves thousands of all-white wearing locals and tourists tossing delicious vino tinto over each other using everything from buckets to water pistols. The week long fiesta of music and wine drinking culminates with the terrific wine battle on a hill outside of town. (29 June 2019 - info here).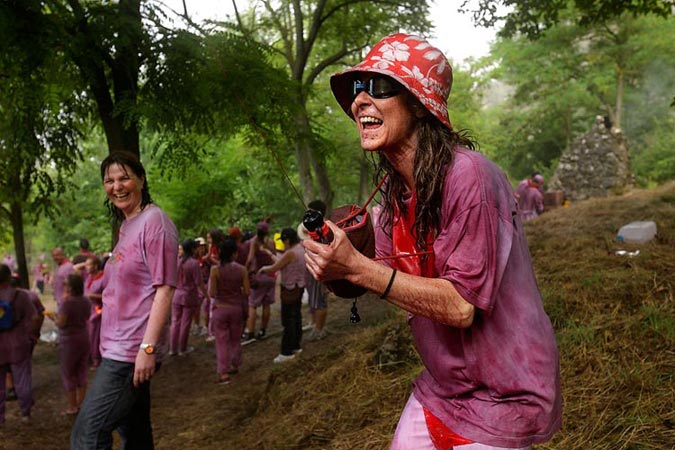 Night of the Radishes, Oaxaca, Mexico
Mexico is a country full of colour, music and rich traditions, and this fascinating festival is a prime example of Mexican culture. In the time leading up to Christmas, residents in Oaxaca practise their artistic skills by carving radishes into tiny humans, animals and houses, to showcase finally on the Night of the Radishes, the day before Christmas Eve. The tradition started as a way to attract people into stores after Church services, but quickly became so popular that it's now an annual event in its own right - the best radish carvings even compete for a 12,000 pesos prize! The most grandiose of these carvings often include scenes from the Gueleguetza Dance and the Nativity. To ensure the competition is fair, participants may only use vegetables grown by the government to create their masterpieces - but understand, these radishes are not like the salad ones, some grow up to 1.5 feet long and weight up to 7lbs! The festival starts in the morning, when visitors can see the artists working on their sculptures, but the highlight is the end of the day when the masterpieces are complete and the judges make their decisions. Oaxaca has a long tradition of wood carving, so imagining that skills have passed down through the generations, the results each year are pretty spectacular… The festival also features concerts around the city, fireworks and light shows. (23 December 2019 - info here).
Kaljakellunta Beer Floating Festival, Vantaa, Finland
Kaljakellunta is an open, free-spirited event during which, each summer, thousands of participants float down a river in all kinds of inflatable vessels whilst drinking beer. With no official organiser, no rules and no entrance tickets, this unusual and laid-back festival has become so popular that local companies even started selling boats specially designed for the event, complete with built-in coolers and beer holders! Held on the rivers around Helsinki and now in its 21st year, this glorious festival attracts visitors of all ages, from all over the world. Most liberatingly, there are also no fixed dates for this event… instead attendees connect with each other and spread the word in person or via social media, ending in an online vote before the final date is announced. In recent years, the event has been criticised for the mess left behind, so if you're going floating, be sure to clean up…. (Typically held last weekend of July or first weekend of August - suggested date is 3 August 2019 - info here.)
BBB has access to excellent rates on flights, hotels, car hire and more around the world, so for a quote or just to talk about options, drop a line to our resident travel expert Anna Hayward at anna@thebbbook.com.
We also have excellent partners who specialise in visas, insurance, luggage delivery and a host of other travel related services - for further information on these, please contact Alex Popoff at alex@thebbbook.com.